Grond Engadin
From scratch, new marketing and brand strategy
The bakery with the taste of the Engadin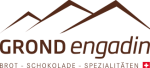 Project
Fresh bread, fine chocolates, Engadine specialties - this is the product world of GROND Engadin. It is sold in four bakeries: in Sils Maria, Silvaplana, Pontresina and La Punt Chamues-ch. There are also two cafés / restaurants in Sils Maria and Pontresina and two "Sportbeizlis" also in Sils Maria and Pontresina. This makes GROND Engadin one of the largest gastronomic players in the Upper Engadine.
Lose no time
We at Cloud Connection were commissioned to give the company "new momentum" in marketing. Such a task must be tackled from the ground up, while at the same time we did not want to lose time and expense for unnecessary analysis and theoretical papers. In order to develop a well-founded and implementation-oriented marketing concept as quickly and efficiently as possible, we chose the methods of "Design Thinking" and "Business Model Canvas".
The findings led to a catalog of priorities structured according to priorities. A slight repositioning and sharpening of the logo, a CI / CD manual based on this and a new packaging concept for the numerous specialties and chocolates were the top priority. We were already able to implement these three masshams from Cloud Connection.
Customer
Grond Engadin
Industry
gastronomy
Packaging that gives pleasure
We refreshed the new packaging color and graphic, the product names we supplemented with storytelling, cross-selling and retargeting texts. The Engadine sugar confectionery tradition as well as the animal and mountain world of the Engadin were in the center. Not only did we look at the design and text of the packaging, but we also looked for and tested new, greener and cheaper forms of packaging, be it boxes, bags or bags. For packaging should present the product appropriately and give pleasure.
The new packaging is very well received by customers and GROND Engadin can already look forward to rising sales. We are looking forward to tackling the next measures.