Laudinella St. Moritz
One vision. One World.
One Laudinella St. Moritz.
Two hotels, six restorations, two bars, two delivery services - and an unrivaled cultural and event offer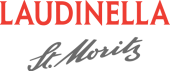 Project
Modesty is a virtue. But sometimes you just have to name the child by name: the team and concept of Laudinella St. Moritz group are lonely top! If a few more competent and innovative creative minds and experts join in, then there is something big about it.
No sooner said than done: In the meantime, the Laudinella St. Moritz Group is a long-standing and successful partnership. Both sides benefit from valuable insights and clearly measurable benefits.
The project started with the comprehensive digitization of all relevant business areas. Thus we created the basis for a smooth communication, the development of exciting products and of course for the optimal service.
The implementation took place in the areas of sales, branding, events, e-commerce, technology and data analysis. Many thanks to the Laudinella St. Moritz group for the great cooperation. It is always a great pleasure for us!