Erfolgreiche E-Commerce Modelle lanciert
Fashion Days ist ein grosser Online-Kleidershop, der vor allem in Osteuropa aktiv ist. Wir haben ihn lanciert und schnell hohe Wachstumsraten erzielt.
Aufbau in 5 Jahren
> 500 Mitarbeiter
Internationalisierung in 7 Länder
> 2 Mio Besucher pro Monat
> 100 Mio EUR Jahresumsatz
45 % Mobile Käufe
1'000 neue Produkte in 8 Sprachen pro Tag
8 Fotostudios
3 Warenhäuser
1 Mio Daten-Transaktionen pro Minute
> 30'000 Kunden-Anfragen pro Sekunde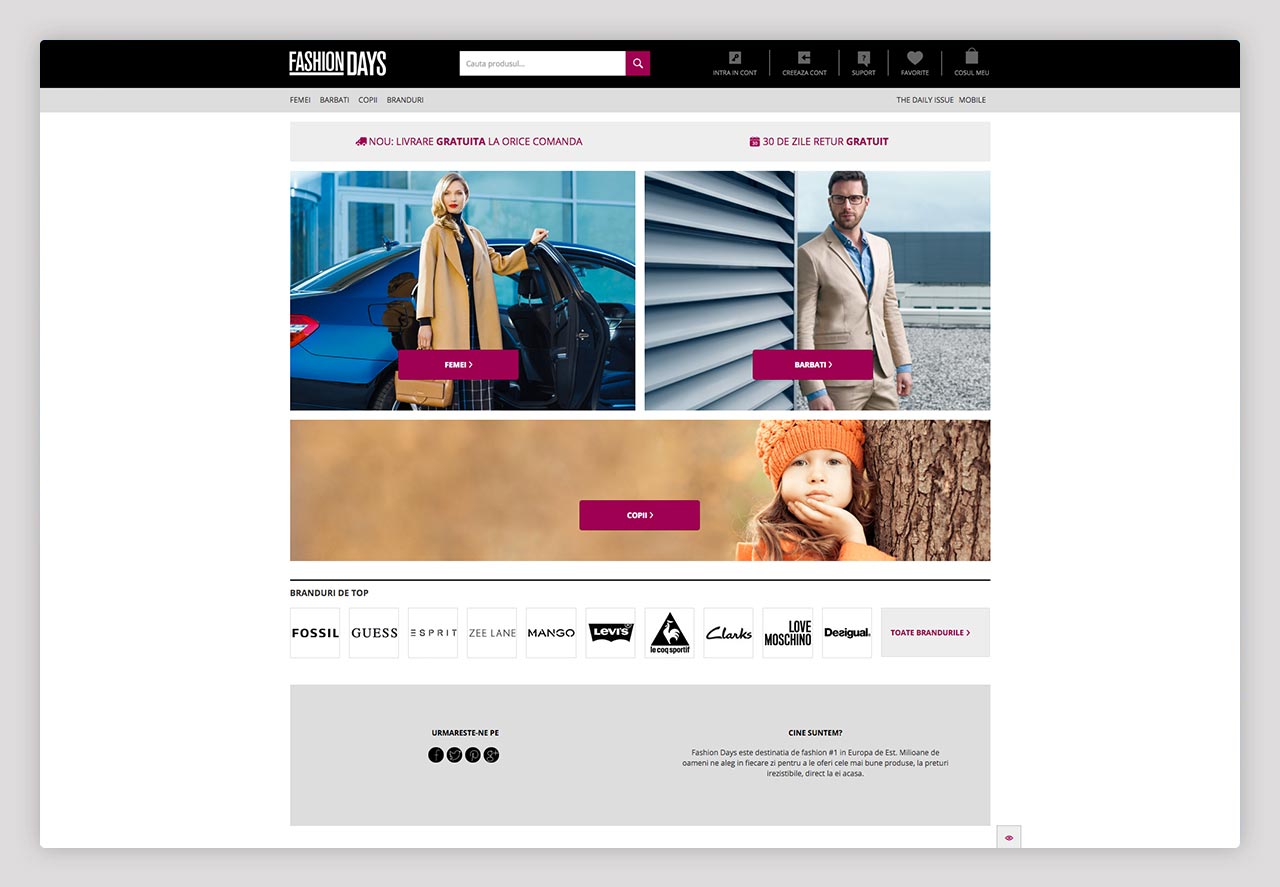 Bet and you will be wrong!
Eine erfolgreiche Skalierung beginnt mit der richtigen Messung.
Niemand weiss, was der Markt benötigt, ohne den Markt zu fragen. Wir haben für Fashion Days die richtigen Daten besorgt, diese in BigData Business Intelligence Systeme importiert und anschliessend Analysen erstellt, um die Kundensicht richtig zu erfassen. Ob beim Kauf, bei der Produktwahl, bei der Datenverarbeitung oder beim Wareneinkauf, alles wurde immer und immer wieder analysiert und verbessert.
Denn datenbasiertes Management ist ein grosser Wettbewerbsvorteil und führt zu Erfolg. Was performed und konvertiert, ist weder Zufall noch Geschmacksache.
Wir haben die Prozesslandkarte bewusst auf einen Verbund verschiedener Systeme ausgelegt. So können wir immer flexibel auf Kunden- und Mitarbeiterwünsche eingehen, die wir messbar eruiert haben. Fashion Days kann so in jedem Bereich immer das beste Tool für den besten Nutzen und Prozess einsetzen.
Ein weiterer Vorteil ist, dass verschiedene Tools auch verschiedene Lebenszyklen haben. Der Investitionsschutz war so von Anfang an gegeben und die «Relaunch-Projekte», welche für die enorme Skalierungsstufen nötig waren, konnten aufgeteilt  werden. Fashion Days musste sich nie mit «Mammut-Migrationen» beschäftigen und war und bleibt stets agil: für Millionen von Kunden, Mitarbeiter und neue Märkte.