Laudinella Hotel Group
New emotional web presence for the Group website
A universe of three hotels, six restaurants, two bars, two delivery services and cultural and event offerings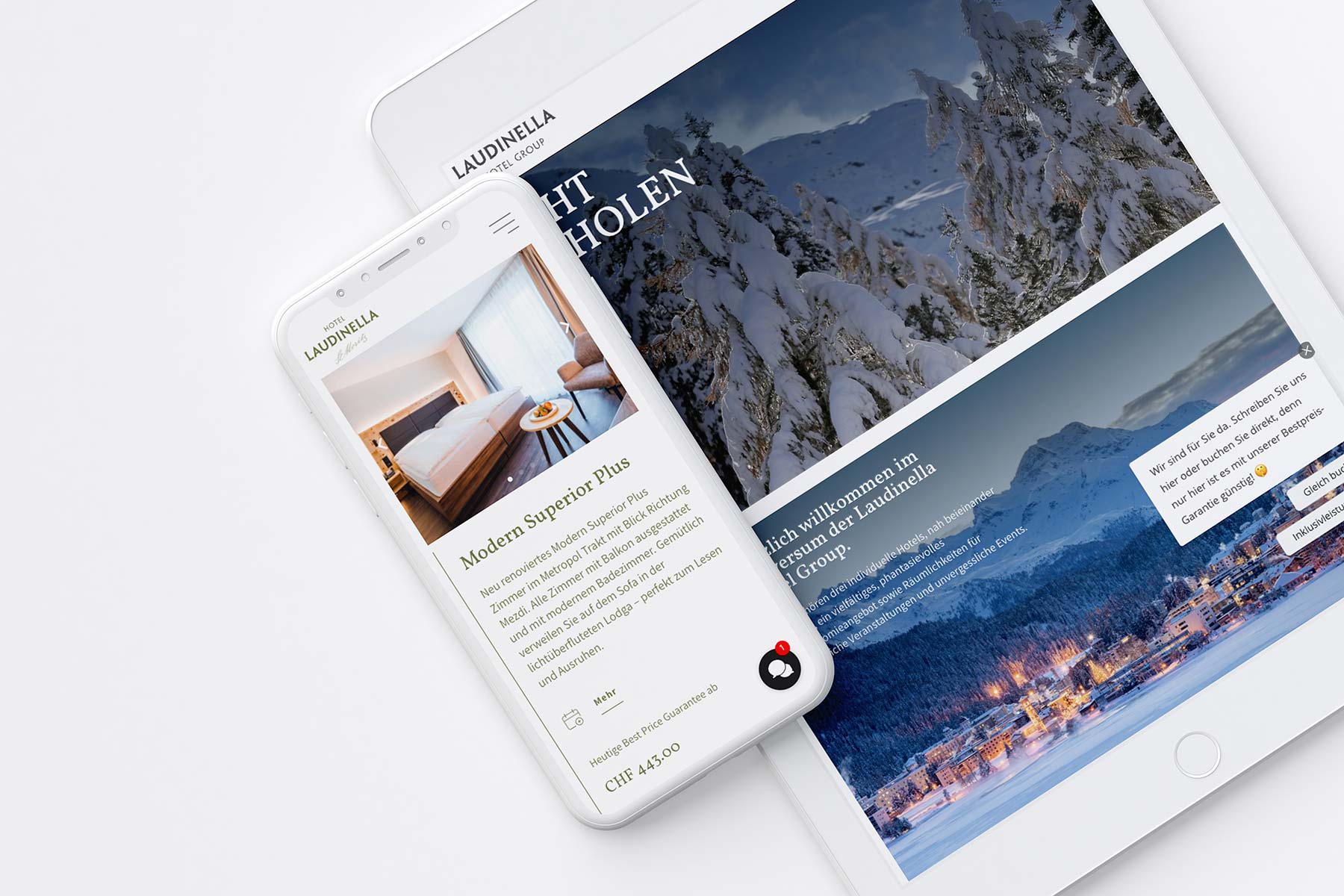 Project
The Laudinella Group St. Moritz has expanded, renewed and developed a new corporate identity (CI) and a new corporate design (CD). We have the upgrade in one emotional website implemented.
We have a long-standing and successful partnership with the Laudinella Group St. Moritz, combined with a comprehensive Digitization of all relevant business areas started: sales, branding, events, e-commerce, technology and data analysis. In doing so, we created the basis for smooth communication, optimal service and the development of exciting products.
The company has expanded enormously with digitization. Most recently, the number of hotels was increased to three and the mother house was extensively renovated. An upgrade that
should be depicted on the website in an emotional way.
We are proud to be able to accompany the excellent development of the company and enthusiastically accepted the challenge of implementing the new front end. The great art was to present the three hotels individually in CI and CD. We have modernized the content and adapted the structure and wording.
structure and wording
Thanks to the new structure, the content can be grasped quickly by visitors. You can already experience the location of the Hotel Laudinella on the home page with moving images and text. The central services of the group are clearly presented in stimulating images and texts and can be accessed directly by visitors. Details on the extensive range of hotels, restaurants and culture are provided in a few but comprehensive menu items in the navigation bar.
Optimized user journey
In order to optimize the user journey, we have created attractive and user-friendly human/machine interfaces for the various business areas and services. With Performance Hosting, we were able to increase the speed of web hosting and create the conditions for excellent performance of the services - whether it's room bookings, table reservations, Home Delivery, ticket purchase or ski rental. This is how we managed to make the excellent services of the Laudinella Group St. Moritz quickly and easily accessible.